MEDIATHEQUE DU GRAND TROYES
Contemporary , History , Literature at TROYES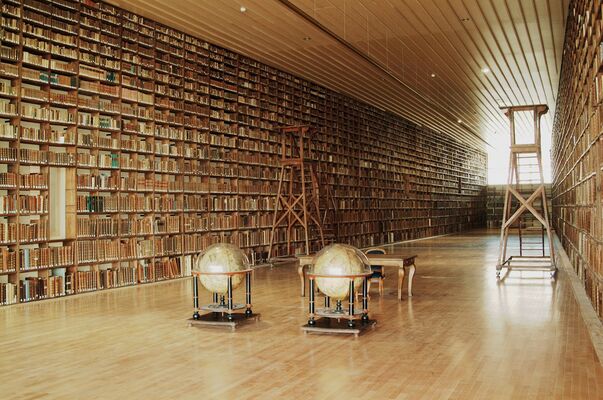 The Multimedia library of greater Troyes was set up in 2002 in a modern building built by the architects Dominique Lyon and Pierre du Besset. It lends to the public 110,000 books, magazines and newspapers, CDs and DVDs, and holds many cultural events. It houses exceptional old collections, in particular abundant medieval parchment manuscripts and a collection of 3,000 booklets and almanacs from the bibliothèque bleue a collection published in Troyes and sold by pedlars.

The Grand hall, visible in the left side of the building, contains 50,000 printed books from former ecclesiastic libraries: 4600 of them were given by the Canon Hennequin to the Cordeliers convent, some used to belong to the Pithou brothers and were transferred from the library of the Oratory Academy.

The manuscript collection, copied and decorated by the monks of the Abbey of Clairvaux from its foundation in the 12th century by Saint Bernard, inventoried in 1472 in a catalogue compiled by father Pierre de Virey (1 790 manuscripts of which 1 115 have been preserved until today) is kept here in its vast majority. The collection, which in the 15th century was already one of the most important medieval libraries of the western world, is now the foremost medieval collection in France in terms of its size and excellent state of conservation. It was inscribed in 2009 on the UNESCO "Memory of the World Register", which aims to preserve and promote documentary heritage of universal value, this heritage being important for humanity's cultural diversity.

The collections, nationalized during the time of the French Revolution (1789), were expanded thanks to donations and bequests in the 19th and 20th centuries by Abbot Hubert, local history documents from Doctor Carteron and the Far East collection bequeathed by the diplomat Victor Collin de Plancy.
A permanent exhibition, accessible during opening hours, traces the history of these heritage collections and presents a hundred of original documents, such as medieval manuscripts, printed books and animated films.

The books and documents are recorded in the computerized catalogue. Many digitized texts and images may be consulted on the web site:

Spoken languages
Accepted customers

Group visits

Visite de l'établissement, de ses collections et de l'exposition permanente « Mille ans de livres à Troyes ». Possibilité d'ateliers de découverte de l'enluminure, de la calligraphie ou de la reliure. Maxi : 45 pers (3 groupes de 15 pers.).
Activities

Amenities

Air conditioning
Internet access

Equipment

Access for disabled
Lift
Children's games
Toilets

Services

Children's area
Guided tours

Accessibility

Mobility impaired

• Accueil de personnes déficientes visuelles.
30 €

Group rate

• Guided tour + Workshop

40 €
Leave a review about Mediatheque Du Grand Troyes :
Horrible

Bad

Average

Good

Excellent
There is no review about Mediatheque Du Grand Troyes, be the first to leave one !