Exposition "Troyes , quartier de la Gare de 1857 à aujourd'hui"
Cultural , Exhibition at Saint-Julien-les-Villas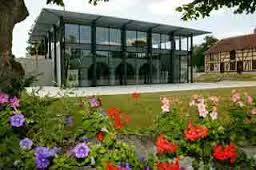 Du 15 septembre au 11 décembre 2016
De 14h à 17h30 du lundi au vendredi
Entrée libre

Salle d'exposition de la Maison du patrimoine
Ouverture tous les jours, de 14h à 17h30
Fermeture le samedi et les jours fériés

Visites commentées :
- tous les mercredis à 16h
- sur rendez-vous pour les groupes constitués

Depuis l'implantation de la gare en 1857 au Ravelin jusqu'à son prochain réaménagement, le quartier n'a cessé d'évoluer.
Cette porte d'entrée sur Troyes a accompagné les nombreuses mutations de la ville : urbaine, économique, industrielle et évidemment ferroviaire.
L'exposition propose de découvrir quatre thématiques :
1 - L'évolution architecturale et économique du quartier ;
2 - La gare de Troyes : les bâtiments, hall et vestibule, sans oublier les
trains de la célèbre « ligne 4 » ;
3 - Les commémorations avec le somptueux Monument des enfants
de l'Aube ;
4 - L'embellissement du quartier : jardins, sculptures et superbes bâtiments jalonnant les promenades.
Maquettes, reconstitution 3D, plans, documents d'archives retracent l'histoire de ce quartier sur près de 160 ans. De nombreuses reproductions de cartes postales complètent cette présentation également agrémentée d'une sélection d'objets et de modèles réduits de l'univers ferroviaire (Compagnie des chemins de fer de l'Est et SNCF).
Leave a review about Exposition "troyes , Quartier De La Gare De 1857 À Aujourd'hui" :
Horrible

Bad

Average

Good

Excellent
There is no review about Exposition "troyes , Quartier De La Gare De 1857 À Aujourd'hui", be the first to leave one !