"TOUS UN CONTE"
Cultural , Local event at Bar-sur-Seine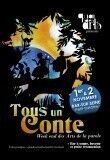 La première édition de son évènement de l'automne dédié aux contes et aux arts de la parole.

Programme :
Samedi 1er novembre / Accueil et billetterie à partir de 18h
Petit théâtre : 18h 30 : Cie Bidibidi
"Ni Dedans, Ni Dehors"
Spectacle imaginatif héroico-burlesque, tout public à partir de 2 ans
"L'histoire est une succession de voyages au cœur de l'imaginaire où tout est possible et l'ordre importe peu : Un conteur, un personnage sorti d'un conte, quelques œufs et l'omelette est prête pour une succession délirante de lieux, de figures, et de mondes à travers l'espace et le temps."

«Interconte» Buvette, bar à soupe et petite restauration
Dojo : 20h30: Fabien Balanche
« Contes initiatiques et récits de vie » tout public à partir de 8 ans
"Paysan conteur, Fabien Balanche met sa passion des textes et du collectage de récits au service des petits et grands qu'il entraîne ainsi dans le monde merveilleux du conte et des glaneurs d'histoires." L'Est Eclair
Il saura vous emmener sur les chemins de la mémoire paysanne, à la rencontre de personnages pittoresques. Ses contes initiatiques et ses récits de vie mélangent l'humour et la réflexion.
A la fin du spectacle, vous êtes invités à conter vos vers avec les artistes.

Dimanche 2 novembre
Accueil et billetterie à partir de 14h30
Petit théâtre : 15h : Rachid Akbal, Cie le temps de vivre
" Les contes cruels du Djurdjura" tout public à partir de 6 ans
Rachid Akbal, conteur méditerranéen, nous propose une plongée dans le décor somptueux du Djurdjura, ce haut massif montagneux de sa Kabylie ancestrale, peuplé de personnages haut en couleur et d'un bestiaire fabuleux.Dans un véritable don de soi, avec son énergie coutumière, sa tendresse, sa générosité, Rachid nous offrira ces contes merveilleux, à la fois cruels, fort drôles et touchants.

« Interconte » Pause gourmande : crêpes sucrées, boissons chaudes

Petit théâtre :17h : Roliuss
« Les aventures de Roliuss et ses amis », tout public
Roliuss est un personnage galactique, temporel, extra-temporel-galactique. Il n'est ni d'ici, ni d'ailleurs, mais partout où on ne l'attend pas.
Conteur de trottoir, il nous raconte ses aventures, il nous présente ses amis, et nous offre un voyage aux confins de son univers imaginaire.
Leave a review about "tous Un Conte" :
Horrible

Bad

Average

Good

Excellent
There is no review about "tous Un Conte", be the first to leave one !