Les aventures de Betsy
Cultural , Unusual
at Troyes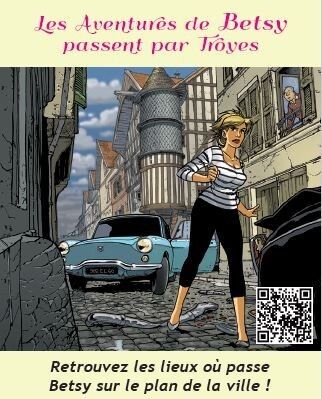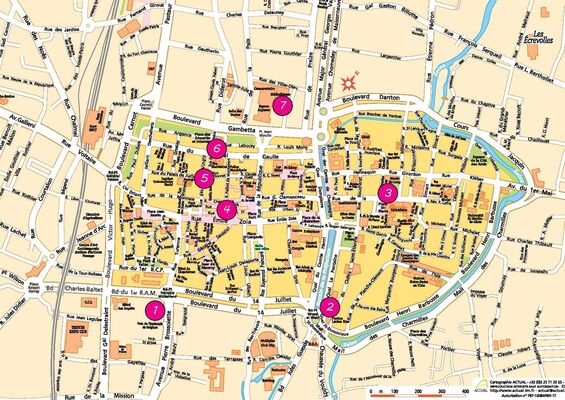 Points of interest
Ce garage se situait au 4 faubourg Croncels, à l'angle du faubourg (avenue Pierre Brossolette) et du Boulevard Victor Hugo (Boulevard du 1er R.A.M).
L'établissement avait été fondé en 1850 et proposait des bicycles et des tricycles ainsi que des ateliers de sellerie et de carrosserie.
Il évolua en garage automobile bien connu des troyens. Sa publicité sur les cartes et factures en faisait un établissement de grande envergure selon la mode de l'époque.
Construite dans le style Art Déco, située rond point Wood et West, la piscine municipale du Vouldy, dont la première pierre fut posée en 1934, est maintenant l'une des plus anciennes encore en activité en France.
Construite dans un type « paquebot » – un bassin cerné de deux galeries périphériques accueillant les cabines –, la piscine est assise sur un soubassement de pierre de taille.
Accueillant de nombreux champions de natation, elle s'appelle maintenant "Piscine Lucien Zins".
3
Bibliothèque Municipale de Troyes
Ce bâtiment du XVIIe siècle est situé dans le quadrilatère formé par les rues Mitantier, de la Cité, Girardon et Chrétien de Troyes.
La Bibliothèque Municipale fut installée dans l'ancienne abbaye Saint-Loup concédée à la ville en 1803.
En 1882, le Pavillon Brissonnet est construit et permet son agrandissement. En juillet 2002, elle déménage et devient la Médiathèque de Troyes Champagne Métropole. Ce bâtiment est maintenant dévolu au Musée Saint-Loup.
La Maison de l'Orfèvre est un hôtel particulier du XVIe siècle situé au 9 rue Champeaux.
Cette jolie maison à pignon, située dans le périmètre des Foires de Champagne, appartenait autrefois à un orfèvre, François Roize.
Elle se singularise par la tourelle édifiée à l'angle qui abrite un escalier, permettant ainsi de gagner de la surface au sol sans avoir à s'acquitter de droits supplémentaires.
La Ruelle des Chats autrefois nommée rue Maillard est caractéristique des rues médiévales par son étroitesse, son pavage, son caniveau central qui obligeait les passants à tenir « le haut du pavé », ses bornes de pierre destinées à protéger la base des maisons des roues de charrettes.
Les toits de ces demeures à colombages sont si rapprochés que, disait-on, les chats pouvaient passer de l'un à l'autre sans risque.
La Ruelle des Chats est classée parmi les Monuments historiques depuis 1961.
6
Jubé de Sainte-Madeleine
L'église Sainte-Madeleine, située 2 rue de la Madeleine, est l'une des rares églises en France à avoir gardé son jubé de pierre datant de la Renaissance.
Cette construction qui fermait le choeur tirait ce nom d'une prière prononcée par l'officiant qui commençait par l'expression latine « Jube Dominé », « Ordonne, Seigneur ».
Cette dentelle de pierre est due au sculpteur Jean Gailde qui, selon la légende, inhumé sous son jubé, peut attendre le Jugement Dernier sans que son chef d'oeuvre ne s'effondre sur lui.
La Grande Salle était installée dans l'ancien dortoir de l'abbaye Saint-Loup.
Elle mesurait 50 mètres de longueur, 10 mètres de large, 7 mètres de hauteur.
80.000 volumes, placés le long des murs, sur 18 rangs, représentaient deux kilomètres de hauts rayonnages en bois.
La nouvelle Grande Salle présente les mêmes volumes et dimensions que l'ancienne : 50 mètres de longueur, 9,50 mètres dans sa plus grande largeur, 7,80 mètres de hauteur. Cependant, son aménagement intérieur est différent.
47 meters of difference in height

Start altitude :

114 m

End altitude :

114 m

Maximum altitude :

118 m

Minimum altitude :

105 m

Total positive elevation :

47 m

Total negative elevation :

-47 m

Max positive elevation :

4 m

Min positive elevation :

-6 m
Leave a review about Les Aventures De Betsy :
Horrible

Bad

Average

Good

Excellent
There is no review about Les Aventures De Betsy, be the first to leave one !