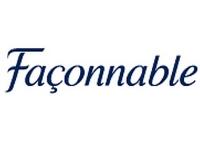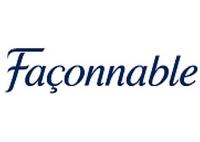 Façonnable
Company , Factory outlet
at Pont-Sainte-Marie
The Côte d'Azur is a colourful region, an infinite source of inspiration for Façonnable.
Coloured patterns, precious fabrics and noble way are the key elements of a Shapable know-how.

Since the family origins of the tailor's workshop in Nice, France Façonnable has embodied the art of tailoring and the apogee of know-how that it has been perpetuating for over 60 years.

Its expertise has been built on the constant pleasure of offering beautiful clothes of high quality and fashionable, yet in keeping with a tradition of elegance.
Monday

10:00 AM - 7:00 PM

Tuesday

10:00 AM - 7:00 PM

Wednesday

10:00 AM - 7:00 PM

Thursday

10:00 AM - 7:00 PM

Friday

10:00 AM - 7:00 PM

Saturday

10:00 AM - 8:00 PM

Sunday

10:00 AM - 6:00 PM