PETIT FUTE (Le)
Company , Book shop , Press, tobacconist at Troyes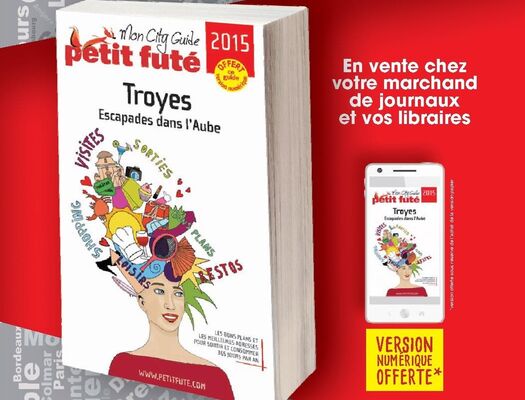 La société Petit Futé

Innover en permanence, rester toujours des pionniers et faire partager petites trouvailles et grandes découvertes : telle est la mission que se fixe depuis plus de 30 ans les équipes du Petit Futé.

Quelques dates clés de l'histoire du Petit Futé :

• 1976 : Création du Petit Futé - 1er guide de consommation pratique
• 1982 : A la conquête des pays francophones ! Mise en place de filiales en Belgique et au Canada
• 1996 : A la conquête de la Russie ! Collection en langue russe avec plus de 162 guides
• 1999 : A la conquête de la Chine ! Mise en place d'une filiale à Pékin
• 2007 : A la conquête de la Pologne ! 18 titres dans cette nouvelle collection
• 2008 : Leader sur le marché francophone : 151 guides sur la France et plus de 200 titres sur le monde !

Les atouts du Petit Futé :

- Des auteurs du cru

Pour chacun de ses titres, le Petit Futé bénéficie de la présence sur le terrain d'une équipe compétente en permanence. Ainsi, à chaque nouvelle édition le contenu éditorial est revu, corrigé, développé et les établissements testés et visités.

- Une forte notoriété

Le Petit Futé bénéficie d'une très forte notoriété en France, dans les DOM-TOM mais aussi en Belgique, en Suisse et au Canada. Les guides Petit Futé sont diffusés largement en librairies et grandes surfaces. Le Petit Futé est partenaire de nombreux grands médias touristiques et ne cesse d'accroître sa présence lors des grands rendez-vous nationaux et internationaux des professionnels du Tourisme.

- Une totale indépendance

Après 30 années d'exercice, le Petit Futé peut s'enorgueillir de toujours être une maison d'édition indépendante.

- Une information qui s'adapte aux nouveaux modes de consommation

Le lecteur type du Petit Futé est à l'affût de la nouveauté, il n'a pas d'habitudes de consommation figée. Il cherche à profiter à fond de ses moments de loisirs et à bénéficier du meilleur rapport qualité/prix dans tous ses achats ainsi que pour ses voyages. Le Petit Futé a su, tout au long de ces 30 années d'existence, s'adapter aux différents et nouveaux modes de consommation. Ainsi, si les "bons plans" sont toujours de rigueur, ce sont désormais de bonnes tables, de beaux hôtels, de ravissantes demeures de charmes, des centres de remises en forme, des golfs, etc. qui viennent compléter l'ensemble de ces adresses toujours plus futées !
Leave a review about Petit Fute (Le) :
Horrible

Bad

Average

Good

Excellent
There is no review about Petit Fute (Le), be the first to leave one !