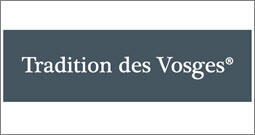 Tradition des Vosges
Company , Factory outlet
at Saint-Julien-les-Villas
Since its creation in 1856, TRADITION DES VOSGES has been designing very high quality household linen near Gérardmer, in accordance with the purest Vosges tradition. Season after season, passionate craftsmen combine tradition with innovation and bring to life collections that are plain, printed, woven and embroidered with bed linen, bathroom linen and table linen that combine elegance and refinement in the French style, while remaining in tune with the times.

All TRADITION DES VOSGES products are available to satisfy both young and old and are decorated with cozy duvets and pillows, blankets and plaids, as well as a wide choice of "decoration" items for a warm and comfortable interior.

Find the previous collections of Tradition des Vosges with a minimum discount of 30% all year round in the Marques Avenue Troyes boutique.
Monday

10:00 AM - 7:00 PM

Tuesday

10:00 AM - 7:00 PM

Wednesday

10:00 AM - 7:00 PM

Thursday

10:00 AM - 7:00 PM

Friday

10:00 AM - 7:00 PM

Saturday

9:30 AM - 7:00 PM