22ème Festival de Théâtre Amateur
Show , Theatre at La Chapelle-Saint-Luc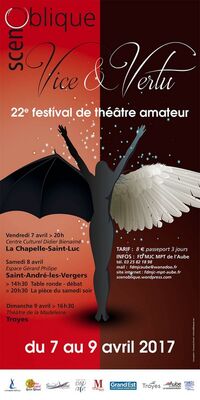 A 20h - Vendredi 7 avril 2017 Durée 2h30
22e rencontre du festival de théâtre amateur 3 jours de création, 3 jours de rencontre autour du thème Vice et vertu

Théâtre - Tout public
Depuis 22 ans le collectif Scènoblique s'applique à promouvoir et à développer le théâtre amateur dans l'Aube. Scènoblique a su créer un réseau d'entraide et d'échange entre les troupes, a su faire découvrir les capacités et le talent du théâtre amateur souvent méconnus. Ce soir nous vous proposons « La leçon de théâtre ». Des courts extraits de pièces vous seront présentés trois fois de suite. Le but est de présenter au public un même texte dans des mises en scène différentes et ainsi de mieux appréhender le travail de metteur en scène. Le collectif Scènoblique, c'est aussi un concours d'écriture ; l'appel aux auteurs, des stages….

Tarif : 8€ passeport 3 jours
Billetterie : 03 25 82 18 98

Après cette première soirée au centre culturel Didier Bienaimé, vous pourrez retrouver les comédiens dans « La pièce du samedi soir » avec une mise en scène de Chloé Deborde à l'Espace Gérard Philipe 20h30 - St André les Vergers.

Le dimanche rejoignez nous pour « l'appel aux auteurs » à 16h30 au théâtre de la Madeleine.
Leave a review about 22Ème Festival De Théâtre Amateur :
Horrible

Bad

Average

Good

Excellent
There is no review about 22Ème Festival De Théâtre Amateur, be the first to leave one !