A la frite !
Show at Saint-André-les-Vergers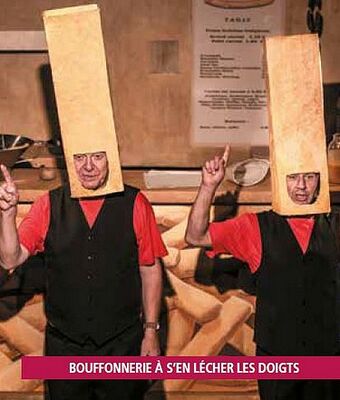 © bruno Mullenaerts
Le Mardi 10 avril 2018 à 19h
Cie du Chien Écrasé (Belgique)
Bouffonnerie à s'en lécher les doigts - Durée : 1h20 - Tout public dès 10 ans - Tarif A

Tarifs (hors Festival Guitares du Monde et spectacles en partenariat) :
• Tarif individuel tarif A = 13 € / Tarif B = 7 €
• Comités d'entreprises, adhérents FNAC, abonnés au Théâtre de la Madeleine = 9,50 €
• Groupes à partir de 10 personnes = 8,50 €
• Tarif réduit (étudiants et demandeurs d'emploi) = 4,50 €
• Enfants et Jeunes jusqu'en terminale = 3 €
• Abonnement 3 spectacles : 28,50 €
(Spectacles en Tarif A uniquement)

« À la frite » ! célèbre et dissèque ce tubercule miraculeux qui a fait la réputation de la Belgique à travers le monde. Le comédien Claude Semal s'adjoint les talents de Michel Carcan, mime et acteur ainsi que ceux d'Agnès Limbos, connue pour son inénarrable humour décalé. Grâce à eux, la Bintje, la sauce andalouse et le blanc de boeuf n'auront plus de secret pour vous. Au passage, ils vous prouveront que, du comédien au frituriste, il n'y a qu'un pas. Avec deux patates, on fait 18 frites. Avec deux comédiens, on fait 18 personnages : des frites syndicalistes, une moule libidineuse, une mouette cannibale, ou un prof de théâtre flamand, croisement entre Arno et Jan Fabre.
Un spectacle craquant, entre théâtre, mime, chansons et marionnettes. L'humeur est joyeuse et irrévérencieuse. On ne vous dit que ça !

Mise en scène : Agnès Limbos – Avec Claude Semal et Michel Carcan

Une création du Théâtre du Chien Ecrasé ASBL, co-produit par le Théâtre du Chien Ecrasé et le Théâtre Le Public, avec le soutien de la Roseraie, de la COCOF (service du Tourisme), de l'Atelier Théâtre Jean Vilar, d'ARTES et de la Charge du Rhinocéros.

www.claudesemal.com
Leave a review about A La Frite ! :
Horrible

Bad

Average

Good

Excellent
There is no review about A La Frite !, be the first to leave one !