Conférence "la mission spirituelle de Bernard de Clairvaux"
Lecture , Cultural at Troyes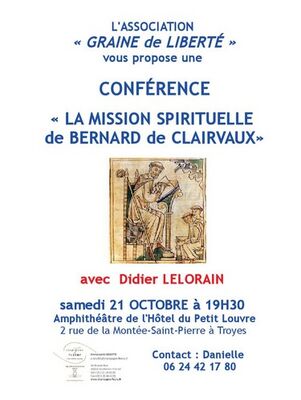 Accepted customers

Group visits

« Visages de poilus » - Musée d'art moderne de Troyes, 19 novembre 2016 - mars 2017 À l'occasion du Centenaire de la Grande Guerre, la Ville de Troyes participe à cet hommage en proposant un programme de célébrations jusqu'en 2018. Dans ce cadre, le musée d'Art moderne décline l'un de ses thèmes majeurs, la figuration, au travers d'une exposition consacrée à la représentation du poilu. La manifestation propose un dialogue, un face-à-face, entre une série de portraits de poilus dessinés durant la guerre, à l'aquarelle, par l'artiste troyen engagé au Front, André Romand, et la série des cent portraits en noir et blanc de poilus du photographe contemporain français, Eric Poitevin. L'intérêt est tant dans la diversité des techniques, des représentations que dans la différence de temporalité. L'un réalise les portraits de ses compagnons de guerre tandis que le second nous livre l'image des poilus en 1985, soit près de 70 ans après la fin du conflit, où seuls quelques éléments nous rappellent l'histoire qui les lie. Cet accrochage est enrichi de prêts par d'autres institutions telles que le musée des Beaux- Arts de Troyes, celui de Nogent-sur-Seine ainsi que les Archives départementales de l'Aube qui permettent de monter la diversité des supports et des regards portés à ces hommes. En complément, un accrochage d'oeuvres issues de la collection des musées troyens est présenté au sein du parcours permanent tels André Derain, André Mare, Roger de La Fresnaye ou Edouard Vuillard tous engagés dans cette même guerre.
Leave a review about Conférence "la Mission Spirituelle De Bernard De Clairvaux" :
Horrible

Bad

Average

Good

Excellent
There is no review about Conférence "la Mission Spirituelle De Bernard De Clairvaux", be the first to leave one !