Ecol'Aube Festival : LE CLIMAT CHANGE ET NOUS ?
Music , Local event , Lecture at La Rivière-de-Corps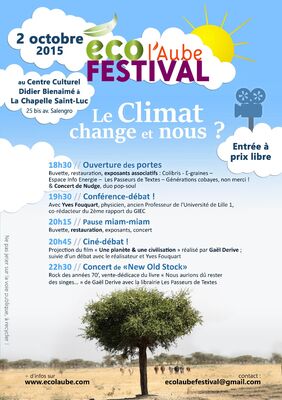 A 18h30 - Centre culturel Didier Bienaimé - 25 bis avenue Roger Salengro, La Chapelle Saint Luc
Entrée à prix libre

Ecol'Aube Festival est fière de vous annoncer la soirée spécial Climat. Au programme, deux conférences, une projection de film, un concert, une restauration et des surprises.

Un concert de Nudge (duo pop-soul) vous sera proposé.
Vous retrouverez également la buvette (et ses breuvages savoureux) et plusieurs stands de diverses associations : Colibris, E-graines, Espace Info Energie, Les Passeurs de Textes, Générations cobayes, non merci !

A 19h30, ne ratez surtout pas Yves Fouquart, Physicien, Ancien Professeur de l'Université de Lille 1, ancien Directeur du Laboratoire d'Optique Atmosphérique, co rédacteur du 2ème rapport du GIEC. Il proposera un bilan sur le climat avant de répondre à vos questions.

a 20h15, petite pause culinaire.

A 20h45, avec le film « Une planète & une civilisation » de Gaël Derive, nous irons à la rencontre des hommes et femmes au sein des 6 principaux climats. Un nouveau regard sur les problèmes globaux (humains et écologiques) dans un contexte de dérèglement climatique. Gaël Dérive sera là pour échanger avec le public à la fin de la projection.

Enfin, pour clôturer ce chaleureux moment, un concert de New Old Stock (rock des années 70′) vous sera proposé.
Leave a review about Ecol'aube Festival : Le Climat Change Et Nous ? :
Horrible

Bad

Average

Good

Excellent
There is no review about Ecol'aube Festival : Le Climat Change Et Nous ?, be the first to leave one !