Fête de la Musique - Les autres lieux
Fête de la musique (Music festival) at Troyes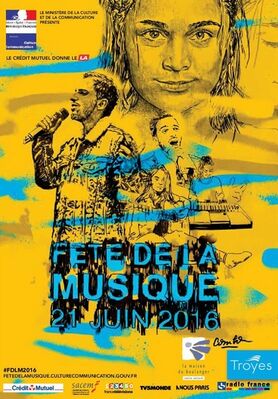 Le 21 juin 2016

LA SANDWICHERIE LE 15, RUE PAILLOT MONTABERT
Dub Electro, minimal, Tech House par Guillaume Barat et Dove M.L.E.H

LE BOUGNAT DES POUILLES, RUE PAILLOT DE MONTABERT
DJ Hamma (Hip-Hop & Music Style)

THE MESSAGE, PLACE AUDIFFRED
- Kcidy // Indie Pop // Lyon - Collection // Indie Folk // Lyon - Dallas // Rock Garage // Paris - Satllite Jockey // Pop Psyché // Lyon

LES CABARETIERS, RUE MOLE
18h à 19h : TONY ZETA : DJ Set Hip-Hop / Funk
19h30 à 21h : CADAVRESKI : Concert live – Hip-Hop made in Troyes (nouvel album « sensible » et ancien EP « Rap à facettes »)
21h30 à 23h30 : Fistaille Made In Toilets (H-Tone & Cécil sans E) - Live set Hip Hop et Mix (MPC)

LA CIGOGNE, PLACE JEAN JAURES
L'orchestre Franck Derivault

LE SAM SAM CAFE, LA BRASSERIE DES HALLES
DJ's Phil' Saxi – Throught the Dust

LE BARABOU, RUE COLBERT
Karaoké Géant

LE MOULIN DE PIERRE, 106 RUE EMILE ZOLA
Dancefloor avec Radio 21

BOITE A VIN, 22 RUE GEORGES CLEMENCEAU
Jazz Quartet (Jazz)

LE DIXI, RUE PITOU
Le Faya Band Crew (Roots, Digital, Dub, Steppa)

WHO'S BAD / WHO'S DAB ? (PARTY), 25 RUE DES 15/20
Maxime Bouché (DJ set/ hiphop - ghetto house)
T2i (Concert/ hiphop - rap)
The FacelessGod (DJ set/ Trap - Grime & Uk Bass)

ECOLE CODA MUSIQUE, RUE GENERAL DE GAULLE
Falling Stairs (Pop rock)

Considérant l'esprit spontané et d'improvisation de la Fête de la Musique, cette liste n'est pas exhaustive.
Leave a review about Fête De La Musique - Les Autres Lieux :
Horrible

Bad

Average

Good

Excellent
There is no review about Fête De La Musique - Les Autres Lieux, be the first to leave one !