La famille (de Martine) expliquée aux gens - "Au p'tit cabaret de curiosités"
Lecture , Show at Saint-André-les-Vergers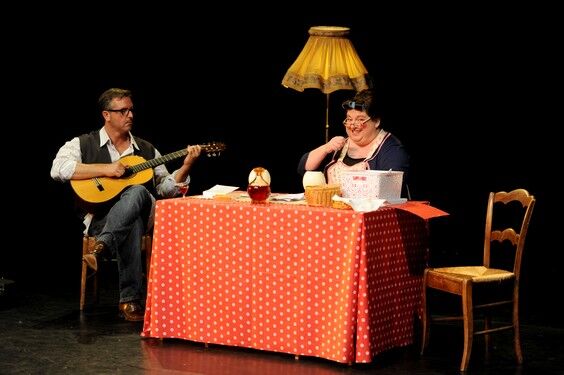 Alain JULIEN
A 19 heures
Le 24 novembre 2016

Cie Attention Au(x) Chien(s)

Tarif A
Durée : 1h15

Tout public dès 12 ans
www.facebook.com/Martine-Blancbaye

Conception : Françoise Jimenez - Mise en scène : Patrice Vion assisté d'Isabelle Morin
Avec : Françoise Jimenez et Damien Roche Musique : Damien Roche – Création et régie Lumière : Mazda Mofid - Scénographie : Françoise Jimenez

Au XVIème et XVIIème siècles le cabinet de curiosités désignait un lieu dans lequel on présentait une multitude d'objets rares ou étranges…
Ici pas de cabinet mais un cabaret, pas d'objets mais des univers artistiques à découvrir. Installé à même la scène dans une ambiance conviviale, le public est invité à déguster avec les yeux et les oreilles le spectacle du jour, avec le nez et les papilles quelques douceurs, avec le cœur et l'esprit une rencontre singulière en bonne compagnie…

Famille, je vous aime… Famille, je vous hais… Famille, je vous « haine ». Qu'en dit Martine Blancbaye ? Martine est dans tous ses états. Sa nièce va se marier. Dieu qu'elle aime ça les mariages, Martine. La mariée déguisée en meringue, les toilettes avec plein de falbalas et tout le tralala…De quoi faire rêver notre romantique ! A la veille de la noce, elle s'est engagée à inviter chez elle sa famille : ses parents, Tante Suzanne qu'on ne voit jamais, l'Oncle Jules qui l'aime bien, tante Zette et même Bonne Maman. Quelle affaire ! Elle s'inquiète terriblement. Elle veut faire les choses bien, notre Martine, mais arrivera-t-on jusqu'au dessert sans s'étriper ? Ah la, la, la famille… Entre celle qu'on subit, celle dont on rêve et celle que l'on se recrée…il y a de la marge !
Les spectacles de la compagnie, sous l'impulsion de Françoise Jimenez s'articulent autour du personnage burlesque de "Martine Blancbaye", conférencière à ses heures perdues qui offre sa vision du monde en explorant des sujets de société, comme la famille…

Production Attention Au(x) Chien(s) – Coproductions MJC intercommunale d'Ay et La Filature de Bazancourt. Avec le soutien de la Région Grand-Est, le Conseil départemental de la Marne, la Ville de Reims, la Spedidam et les Champagnes Stroebel

Le spectacle sera suivi d'un échange avec l'équipe artistique

Au tarif de :
- Tarif individuel (Tarif A) = 13 €
- Comités d'entreprise, adhérents FNAC, adhérents au Théâtre de la Madeleine = 9,50 €
- Groupes à partir de 10 personnes : 8,50 €
- Tarif réduit (étudiants et demandeurs d'emploi) = 4,50 €
- Scolaires (de la primaire au lycée) = 3 €

- Abonnement 3 spectacles : 28,50 € (sauf spectacles en partenariat avec le Théâtre de la Madeleine, festival Guitares du Monde).


Dans le cadre des sorties scolaires : 1 accompagnateur GRATUIT pour 10 élèves.
Ouverture de la billetterie le lundi 5 septembre 2016
Leave a review about La Famille (De Martine) Expliquée Aux Gens - "au P'tit Cabaret De Curiosités" :
Horrible

Bad

Average

Good

Excellent
There is no review about La Famille (De Martine) Expliquée Aux Gens - "au P'tit Cabaret De Curiosités", be the first to leave one !