La lumière bleue
For children , Show at Troyes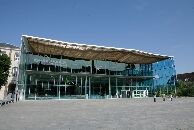 Spectacle jeunesse à 15h30

Tout commence dans le noir. La Nuit.
Autrefois, dans la campagne, il n'y avait aucune lumière. Alors, la nuit, c'était vraiment tout noir, tout noir.
C'était un pays d'arbres bas et d'étangs, de marécages. Là, au milieu des landes vivait un jeune berger, tout seul, dans une petite cabane.
La nuit, les rideaux bougeaient. Alors que la fenêtre était fermée. Et le berger se demandait tous les soirs ; pourquoi les rideaux bougent si la fenêtre est fermée ?
Et soudain, une nuit, il a vu une petite lumière bleue. Elle s'est approchée, derrière la fenêtre… Il a tiré le rideau…
La lumière était là, scintillante, elle voulait entrer…
Qu'est-ce que c'était ?

Avec Nathalie LEONE de la Cie "A la lueur des contes".Pour les enfants à partir de 5 ans
Sur inscription au 03.25.43.56.33.
Leave a review about La Lumière Bleue :
Horrible

Bad

Average

Good

Excellent
There is no review about La Lumière Bleue, be the first to leave one !