La Nuit du Blues
Music , Concert at Troyes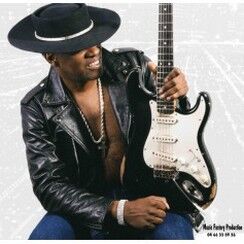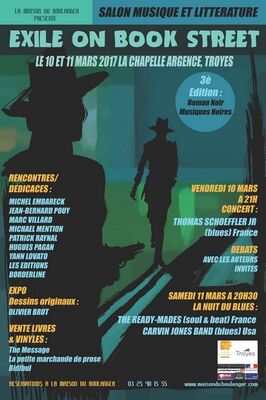 A 21h
LA NUIT DU BLUES avec The Ready-Mades (Soul & Beat, PARIS) Carvin Jones (Blues - Phoenix USA)

THE READY-MADES - Orchestre sauvage, groovy et raffiné, les Ready-Mades se sont formés dans les faubourgs parisiens en 2015. Influencés par la musique noire américaine des origines, le beat de
la perfide Albion et l'underground 60's français, ils sont maintenant prêts à vous faire transpirer dans vos costumes cintrés.
Membres : Anatole Transe (Framus 63), Aristide Bruyant (Basse des soviets), Barbara Stressante (Tiger woman), Fabrice del Bongo (Beat), Sir Water Closet (Conn 12 M)
LIENS :ready-mades.tumblr.com
readymadesband.bandcamp.com

CARVIN JONES BAND - Carvin Jones Band est un trio de Blues Rock originaire de Phoenix, en Arizona. Le groupe est dirigé par le guitariste / chanteur Carvin Jones et accompagné par le bassiste Joe Edwards et le batteur Levi Velasquez. Leur style unique de blues et leur énergie débordante ont fait d'eux le groupe favoris des fans de blues et de rock'n'roll.
Carvin Jones est né à Lufkin Texas. À un très jeune âge, il a été séduit par le blues en écoutant un album de BB King. Il commence à jouer de la guitare à 11 ans et échappe à son quartier difficile en consacrant son temps à sa guitare. Il déménage en Arizona à 19 ans pour commencer sa carrière musicale.
Le Carvin Jones Band est né en 1991. Au cours des dernières années, le Carvin Jones Band a partagé la scène et des tournées avec des légendes du blues et le rock'n roll tel que BB King, Santana, Jeff Beck, Albert King... Carvin a lui-même joué avec Joe Cocker and the Fabulous Thunderbirds. Le Carvin Jones Band a sorti plusieurs albums studio au fil des années et a tournées partout dans le monde. En 2012 Carvin a accueilli dans le groupe deux musiciens américains établis, Joe Edwards et Levi Velasquez.
Joe Edwardsest un talent naturel autodidacte qui donne au groupe une signature sonore en combinant des éléments de blues, rock et funk. Joe est aussi l'un des bassistes solistes les plus imaginatives et colorées de blues moderne. Joe apporte une quantité incroyable d'énergie et de complémentarité à l'expérience Carvin Jones.
À la batterie, Levi Velasquez a apporté énormément d'énergie et d'excitation aux concerts déjà électrisante de Carvin. Levi a joué avec de nombreux groupes à travers les États-Unis et a partagé la scène avec certains des artistes les plus prolifiques de la musique populaire d'aujourd'hui dans une variété de genres. Le style de Levi complète l'éclectisme de Carvin avec sa capacité à jouer de nombreux types de musique, du blues classique et Jazz au hard rock et de la pop.
En Janvier 2001, Guitarist Magazine a nommé Carvin Jones « l'un des 50 meilleurs guitaristes de blues de tous les temps! »
Le groupe tourne en permanence en jouant plus de 320 concerts par an. Ils sont actuellement en phase de production pour leur nouvel album «Blues Is My Life», qui est sorti début 2016.
«Carvin Jones is a young cat out of Phoenix who I think is the next up-and-coming blues player»
- Eric Clapton
LIENS :http://www.carvinjones.com
https://www.facebook.com/CarvinJonesBandOfficial/

Tarifs : 15 € en prévente et 20 € sur place
Réservations à la Maison du Boulanger 42 rue Paillot de Montabert à Troyes
Par Téléphone au 03 25 40 15 55
ou en ligne - Frais de vente à distance : 1 € par commande. http://www.maisonduboulanger.com/billetteries.html
Les tarifs réduits, scolaires/étudiants, abonnements et pass découverte ne sont pas disponibles sur Internet.
Leave a review about La Nuit Du Blues :
Horrible

Bad

Average

Good

Excellent
There is no review about La Nuit Du Blues, be the first to leave one !