Le Bail Electronique Bis
Music , Concert at Troyes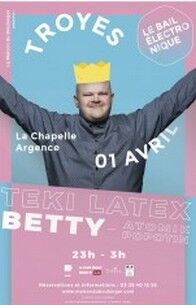 A 23h
Par la Maison du Boulanger

avec Atomik Popotin, Teki Latex et Betty - De 23h à 3h
Un set de Teki Latex c'est un ascenseur émotionnel tant l'éclectisme et les rythmes y sont réunis pour s'entrechoquer.
Son expérience du Dj Set lui permet maintenant d'être très porté sur la technique et le mix à 3 platines numériques, accapela, bootleg et autres blend (superposition de deux musics pour en créer une) y sont experimentés.
Les ambiances sont quant à elles très festives, on est là pour faire la fête et aussi pour voyager car ce grand monsieur est adepte du métissage des cultures musicales.
Selon son humeur le voyage peut être teinté de bass music anglaise, de bérite club music (un mouvement musicale francais au croisement entre la french touch 2.0 et le coupé décalé) ou bien de techno mais jamais pour s'enfermer dans un style binaire.

Betty prend ses racines dans la bass music anglaise elle aussi; mais son passé de DJ dans les balls de voguing prend souvent le dessus pour y intégrer ce style de house ballroom reconnaissable par son sample du titre house « The Ha Dance » des Masters at work.
Elle n'a pas peur elle non plus de franchir les frontières quand elle s'attaque à la gqom, ce dérivé de house au sonorités tribales et afro qui viens directement des rues d'Afrique du Sud.
Au courant des derniers hits Outre Manche, elle saura faire jumper les foules avec les derniers hits de Stormzy ou bien Aj Tracey deux Mc's pratiquant du Grime : le rap anglais si cher à notre binôme.

Animatrice radio, dj et programmatrice de soirées, Atomik Popotin est une passionnée. Des Nuits de Champagne au Montreux Jazz ou de caves en clubs undergrounds, voilà 10 ans qu'elle sélectionne ses tracks avec soin pour en sortir des sets chaque fois différents, frais et dansants, le tout emmené par sa débordante énergie.

Tarifs : 15 € sur place et 10 € en prévente
Debout
Réservations à la Maison du Boulanger 42 rue Paillot de Montabert à Troyes
Par Téléphone au 03 25 40 15 55 ou en ligne
Frais de vente à distance : 1 € par commande.
Les tarifs réduits, scolaires/étudiants, abonnements et pass découverte ne sont pas disponibles sur Internet.
Leave a review about Le Bail Electronique Bis :
Horrible

Bad

Average

Good

Excellent
There is no review about Le Bail Electronique Bis, be the first to leave one !