LE BEZEN PERROT PAR Françoise MORVAN
Cultural , Lecture , Historic at Troyes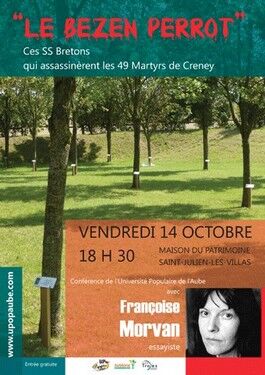 A 18h30

Vendredi prochain 14 octobre, nous invitons Françoise MORVAN qui dirige la collection "Les grandes collectes" aux éditions Ouest-France.
Elle est écrivaine et journaliste, édite poésie, contes, spectacles, traductions … Elle produit des émissions de radio, une femme active et généreuse. Elle a publié des essais remarqués et remarquables: Le monde, comme si (Actes-Sud); Miliciens contre maquisards (Ed Ouest-France).

Vendredi, elle nous parlera du groupe BEZEN PERROT, ces fascistes bretons qui ont dû fuir devant les Alliés après avoir commis les crimes les plus abominables contre la Résistance bretonne dans les années terribles de l'occupation.
En l'invitant, notre intérêt est double, car en essayant de comprendre comment des Français ont pu s'engager du côté des SS, on cherche à savoir pourquoi ces Bretons autonomistes vinrent à Troyes accompagner les SS du colonel Pulmer pour fusiller à CRENEY les 49 martyrs de la prison Hennequin.

Au delà de l'histoire compliquée de cette époque que Françoise Morvan débroussaille avec génie, elle nous expliquera le rôle de ces autonomistes bretons à qui l'Allemagne avait promis qu'ils libéreraient la Bretagne des Français devenus les ennemis éternels !
Elle nous expliquera qu'aujourd'hui, le poids de cette mouvance autonomiste tente de réécrire l'histoire en criminalisant la Résistance et en édulcorant celle de la collaboration, affirmant même que ces fascistes bretons se battaient pour une cause juste !
Leave a review about Le Bezen Perrot Par Françoise Morvan :
Horrible

Bad

Average

Good

Excellent
There is no review about Le Bezen Perrot Par Françoise Morvan, be the first to leave one !