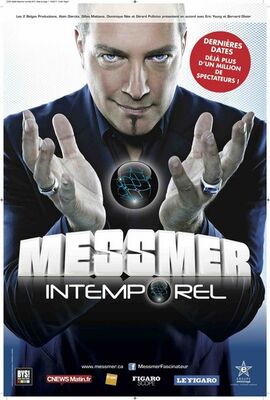 A 20h - INTEMPOREL

Messmer, Le Fascinateur, vous fait vivre une expérience interactive unique à partager, pleine d'humour et d'émotions fortes. A l'aide des techniques d'hypnose, de transfert d'énergie et de magnétisme, il invite le spectateur à entrer dans son laboratoire intemporel et expérimental pour d'incroyables aventures, sans aucun trucage.

Depuis quelques décennies, Messmer exerce un attrait irrésistible par la puissance de son regard et fascine les gens en les plongeant dans les tréfonds de leur subconscient. Le Fascinateur fait vivre à ses sujets, sur scène ou lors de ses populaires émissions à la télévision au Canada et en France, des expériences hors du commun à l'aide du transfert d'énergie, de l'hypnose, du magnétisme et de quelques autres techniques qui lui sont propres.

Dès son plus jeune âge, l'art de la fascination est d'un naturel déconcertant pour Messmer. Il commence à s'y intéresser à l'âge de 7 ans et hypnotise une personne pour la première fois à l'âge de 9 ans. Puis, c'est à 15 ans qu'il effectue ses premiers spectacles, sous une forme simple, dans le cadre de soirées privées.

L'homme ne possède pas de don, mais maîtrise à la perfection ces techniques.
Après plusieurs années à étudier le phénomène pour amplifier ses propriétés, l'artiste utilise aujourd'hui son savoir à des fins de divertissement pour éblouir les gens. Il adopte alors le nom de Mesmer, en l'honneur de l'un des pionniers du magnétisme, l'illustre médecin autrichien au 19e siècle, Franz-Anton Mesmer, y ajoutant un s comme touche personnelle.

Par sa force bienveillante, il vous fera vivre une expérience délirante et mystérieuse à travers les époques, l'espace et le monde.

carré or : 59.50 €
cat 1 : 49.50 €
cat 2 : 44.50 €
Reservations à la Maison du Boulanger 42 rue Paillot de Montabert à Troyes
Par Téléphone au 03 25 40 15 55
ou en ligne
Frais de vente à distance : 1 € par commande.
Leave a review about Messmer :
Horrible

Bad

Average

Good

Excellent
There is no review about Messmer, be the first to leave one !