Nuit européenne des musées - Citée du Vitrail
Night at the museum at Troyes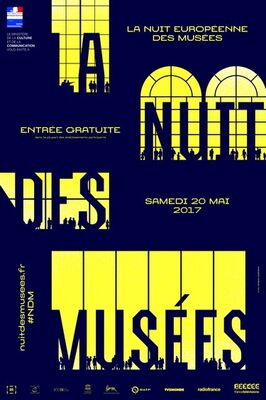 Visuel officiel de la Nuit des musées © Zoo
De 19h30 à minuit
Le Département ouvre exceptionnellement les portes de la Cité du vitrail, à l'occasion de la 13e édition de la Nuit européenne des musées.

Le public se verra proposer des visites flash de l'étonnant vitrail des Triomphes de Pétrarque (église d'Ervy-le-Châtel) et des énigmes permettant de percer, de façon ludique, les mystères des vitraux exposés. Le jardin de l'Hôtel-Dieu-Le-Comte mènera la danse. Les membres de l'association ADP3 y effectueront en effet des démonstrations de tango argentin (classé au patrimoine culturel immatériel de l'Unesco depuis 2009), sur de la musique live, interprétée par le quartet Abrazado Tango. Amateurs et novices pourront ensuite esquisser quelques pas.

Programme de la soirée

Lumière sur le vitrail des Triomphes : présentation commentée du vitrail, suivie d'échanges avec le public.
Durée 15 minutes par intervention.
à 20h30, 21h30, 22h30

Mystérieux vitraux - Guidé par une médiatrice, le visiteur perce de façon ludique les mystères du vitrail en répondant à quelques énigmes.
Durée 10 à 15 minutes.
En famille à 19h45, 20h15, 20h45 et 21h15
En individuel à 22h45 et 23h15

Tango argentin : Démonstration par l'ADP3, musique par le Quartet Abrazado Tango, suivie d'une initiation.
RDV dans le jardin de l'Hôtel-Dieu-Le-Comte
A 20h, 21h, 22h et 23h

Visites et animations gratuites. Sans réservation.
Leave a review about Nuit Européenne Des Musées - Citée Du Vitrail :
Horrible

Bad

Average

Good

Excellent
There is no review about Nuit Européenne Des Musées - Citée Du Vitrail, be the first to leave one !