Opération « Jules CESAR »
Music , Concert at Troyes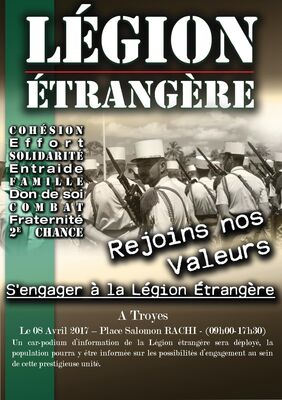 De 9h à 17h30
La Légion Étrangère présentera au travers de cette action de communication toutes les possibilités qu'elle offre en termes d'emploi.
Public cible de 17ans ½ à 40 ans (non révolu).

1.Présentation de l'activité
La Légion Étrangère déploiera un car-podium de 9h00 à 17h30. Au travers de ce moyen la population pourra être informée sur les possibilités d'emploi au sein de la Légion étrangère.
Les recruteurs qui animeront ce stand délivreront toutes les informations utiles et répondront aux questions sur la très grande diversité des postes au sein de la Légion et sur les possibilités d'intégrer cette unité. Pour l'année 2017, 1300 postes sont à pourvoir.

2.Présentation de l'entreprise
Prestigieuse unité, la Légion étrangère est connue et reconnue mondialement. Véritable opportunité pour ceux qui cherchent une nouvelle chance, une nouvelle famille ou une vie exaltante.
Forte de 8200 hommes elle se caractérise par ses valeurs, son style de commandement et le fait que chaque légionnaire débute son parcours avec les mêmes chances d'évolution de carrière.
Tous les sous-officiers ainsi qu'environ 10% des officiers sont issus des rangs des militaires du rang

3.Profil recherché
- Homme, âgé de 17 ans et demi (avec autorisation parentale) à 40 ans (non révolu) ;
- Être apte physiquement (ne pas avoir subi d'ostéosynthèse) ;
- Pouvoir justifier de son identité (FR - passeport ou carte d'identité en cours de validité) ;
- Satisfaire aux tests de sélection ;
- Aucun prérequis scolaire n'est exigé ;
- Aucun dossier préalable n'est à constituer.
Accepted customers

Group visits

A 20h30 - Espace Argence - Bd Gambetta - Troyes Mardi 25 octobre 2016 Tout à commencer en 2013 quand elles remportent le concours #ChoraleTryo organisé lors de la 27ème édition des Nuits de Champagne. En guise de récompense, elles sont invitées pour interpréter sur la scène de l'Espace Argence « L'hymne de nos campagnes » avec le groupe Tryo, invité de l'édition 2013 des Nuits de Champagne. Le début d'un phénomène musical ! Véritable buzz international, Lucie, Elisa et Juliette continuent de travailler l'art de la cover, du mash-up et de l'harmonie. Après leur succès sur Youtube avec la vidéo « Summer 2015 » au plus de 50 millions de vues, les trois amies d'enfances dévoilent un premier album en décembre qui s'est déjà vendu à plus de 300 000 exemplaires. Le trio est de retour dans la cité tricasse et se produira cette fois-ci en tête d'affiche pour un concert entre reprises et titres originaux ! Tarifs Placement libre assis/debout : 35€ Mozaïc : 25€
Leave a review about Opération « Jules Cesar » :
Horrible

Bad

Average

Good

Excellent
There is no review about Opération « Jules Cesar », be the first to leave one !