Spectacle - Roger cactus - Caisse qui s'passe ?
Show at Sainte-Savine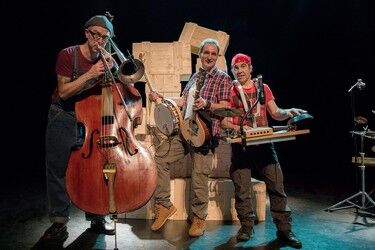 copyright : roger cactus
A 16h
Dans le cadre du festival Cours z'y vite
A PARTIR DE 5 ANS - Durée : 1h - genre : concert Compagnie «dessous de scène» (FRANCE)
Que font les maîtresses après la classe ? Qui sont les gens que l'on croise dans la rue ? Serions-nous plus heureux avec une trompe, des ailes ou des pieds palmés ? Les réponses à ces questions essentielles se trouvent dans ce spectacle ! Se baladant entre rêverie et réalité, entre passé et futur, entre humour et tendresse, ce spectacle dresse le portrait de personnages touchants : le (faux) rebelle, le fanfaron trouillard, le méchant irrécupérable… On voyage du far-west à un monde robotisé à l'extrême… Sans en avoir l'air, on évoque avec légèreté de nombreux thèmes, tels que les émotions, les conflits, l'acceptation de soi-même, l'addiction aux nouvelles technologies… Sur des musiques aux couleurs jazzy, country, parfois teintées d'influences africaines, d'un soupçon de rock, de reggae et toujours swinguantes, Roger CACTUS et ses musiciens vont entraîner le jeune public dans leur univers détonant joyeux et rythmé !
Tarifs : 8€ / - De 12ANS : 6€ / Scolaire : 4.5€ / Tarif réduit : 7€ / Public CCAS : 1€
Visuel /copyright : Roger cactus
Leave a review about Spectacle - Roger Cactus - Caisse Qui S'Passe ? :
Horrible

Bad

Average

Good

Excellent
There is no review about Spectacle - Roger Cactus - Caisse Qui S'Passe ?, be the first to leave one !