Super Loto
Local event at Troyes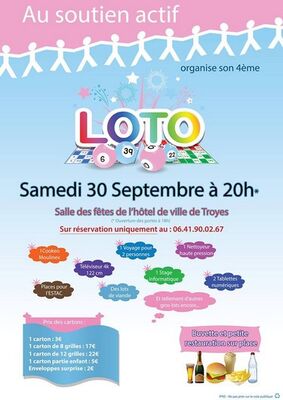 A 20h
L'association caritative "AU SOUTIEN ACTIF" organise son Super Loto pour la 4ème année consécutive. Ouverture des portes à partir de 18h00 pour la distribution des cartons

Les habitués de cette manifestation connaissent maintenant la qualité et la valeur des lots que nous mettons en jeu chaque année. C'est pourquoi nous vous espérons encore très nombreux cette année pour nous permettre de venir en aide financièrement à encore plus de malades de l'Aube atteints du cancer.

Les inscriptions se font exclusivement sur réservation
- soit en appelant le 06.41.90.02.67
- soit directement au magasin situé 11 avenue Marie de Champagne à Troyes.
Ne tardez pas à vous inscrire car le nombre de places est limité.

Pour mémoire, l'association "AU SOUTIEN ACTIF" vient en aide financièrement et directement aux personnes de l'Aube atteintes de pathologie cancéreuse.

Nous comptons bien évidemment sur vous pour en parler à vos relations (parents, amis, voisins…) pour que ce rendez-vous soit encore une fête grâce à la grande générosité de nos partenaires sponsors et également grâce à votre présence.

Buvette et petite restauration seront assurées sur place.
Leave a review about Super Loto :
Horrible

Bad

Average

Good

Excellent
There is no review about Super Loto, be the first to leave one !