Théâtre - Après grand c'est comment ?
Show , Theatre , Circus at Sainte-Savine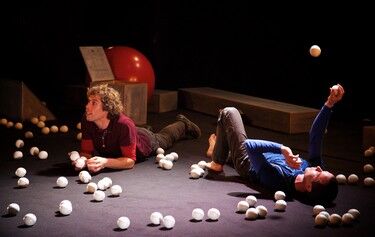 copyright : Cie MANIE
A 14h30 et à 19h
Dans le cadre du festival Cours z'y vite
A partir de 6 ANS - Durée : 50min - genre : théâtre - cirque
Compagnie «Manie» (FRANCE)

Pour sa quatrième création, la compagnie Manie fait se rencontrer le jonglage et l'écriture théâtrale contemporaine autour d'un texte du répertoire jeune public de Claudine Galea. Publié en 2013, cet ouvrage met en scène Titus, un petit garçon qui ne parle pas et qui passe son temps à rêver. Il voit et entend des choses que les Grands, trop pressés, trop occupés, n'arrivent plus à percevoir. Dans le monde de Titus, la soupe et l'escalier nous parlent, les rêves et les histoires nous font part de leurs sentiments et de leurs points de vue. Ce texte s'adresse autant aux parents que nous sommes, qu'aux enfants que nous avons été. C'est un manifeste poétique pour le droit de rêver et de prendre son temps. Ici, la nature et les rêves reprennent leurs droits, et supplient les petits comme les grands de les replacer au cœur de leur existence.

Tarifs ou gratuité : 8€ / -de 12ans : 6€ / scolaire : 4.5€ / tarif réduit : 7€ / Public CCAS : 1€

Visuel - copyright : Cie MANIE
Leave a review about Théâtre - Après Grand C'Est Comment ? :
Horrible

Bad

Average

Good

Excellent
There is no review about Théâtre - Après Grand C'Est Comment ?, be the first to leave one !