Valises d'Enfance
Show at Saint-André-les-Vergers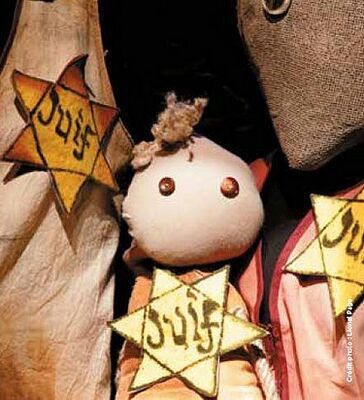 © Lionel Page
Le Mardi 19 septembre à 19h.
Compagnie Pipa Sol
Ouverture de saison - Marionnette - Durée : 50min - Entrée libre sur réservation - Tout public dès 8 ans

Benjamine, huit ans souhaite réaliser un reportage audio sur sa famille. Lorsque le spectacle commence, c'est au tour de son grand père André, de raconter son enfance. Cette requête le bouleverse. André a en effet toujours tu son enfance et reconstruit sa vie autour de ce silence.
Issu d'une famille juive polonaise, André a survécu à la Seconde Guerre Mondiale. Enfant caché, puis enfant de déportés, il a été recueilli à la Libération dans plusieurs « maisons d'enfants », y puisant la force de grandir malgré l'irréparable douleur du manque. Grâce à Benjamine, André comprend qu'il doit aujourd'hui délivrer son passé, ce passé qu'il a conservé dans une valise, sa valise d'enfance.

Mise en scène & scénographie : Christine Delattre - Dramaturgie : Christine Delattre, Agnès Gaulin Hardy – Marionnettistes : Anne Miniou, Christine Delattre, Didier Welle - Assistante M.e.s : Marie Laure Spéri - Consultant Marionnettique : Patrick Henniquau - Musique : Eric Bono - Voix : Christophe Hardy -
Marionnettes : Christine Delattre, SophieTaïs, Agnès Gaulin Hardy - Conception Vidéo : Didier Welle - Décors : Isoline Favier - Création Lumière : Marc Flichy / Didier Welle

Production : Compagnie Pipa Sol - Compagnie conventionnée par la Ville d'Andrésy et la CA2RS - Co-production Le Sax Achères - Le CAC Georges Brassens Mantes La Jolie
Soutiens : Fondation pour la mémoire de la shoah, UJRE, Amicale des Anciens des Foyers de la CCE

Le spectacle sera précédé d'une présentation en images de la saison (1 h environ) et sera suivi du verre de l'amitié à La Grange.
Leave a review about Valises D'enfance :
Horrible

Bad

Average

Good

Excellent
There is no review about Valises D'enfance, be the first to leave one !